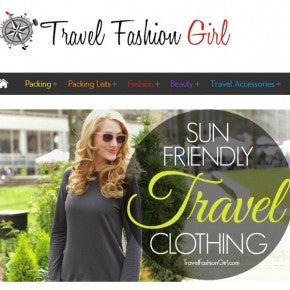 Sun Friendly Travel Clothing: SummerSkin
Are you a world traveler or do you dream of becoming one? Maybe you just enjoy long weekends camping or a quick beach trip, either way you will enjoy Travel Fashion Girl, a traveler's guide to practical and stylish travel gear. You can find anything and everything you need/want to know about beauty products, functional travel gear and light packing on this lovely site.
Since many of TFG's travels take them to sunny locales they know a thing or two about protecting their skin from the sun. We are delighted that they have chosen to highlight SummerSkin and our skin saving fashions. Their latest post 'Sun Clothing Made For Delicate Skin: Introducing SummerSkin' touches on the importance of going beyond sunscreen whether you are hitting the beach or have a long day of sightseeing ahead.
"SummerSkin makes covering up fashionable and convenient."
TFG called out a few of their favorite SummerSkin picks, perfect for any travel girl. Their picks included the Evolution Hoodie: for breezy beach days, the Endless Summer Scarf: for light coverage over any top, and the extremely travel friendly Maxi Dress.
"The Maxi Dress, a travel wardrobe staple."
Read the full article here or check out some of TFG's other savvy traveler advice.