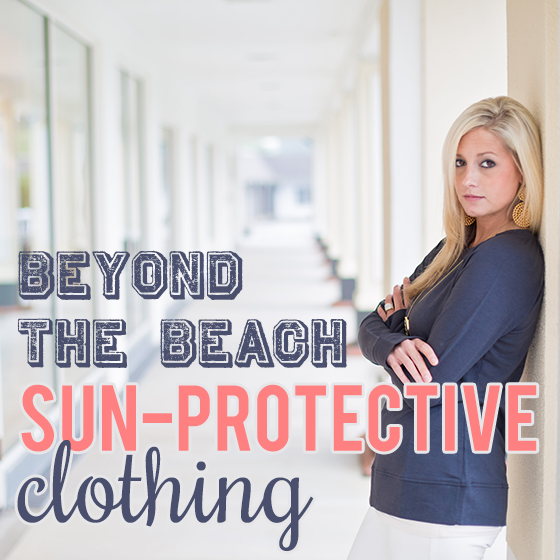 Daily Mom: Beyond The Beach
We are thrilled to have been featured by Daily Mom in their recent article, 'Beyond The Beach: Sun Protective Clothing'. Daily Mom is an informative blog that shares useful tips for the modern mom. It's an eclectic mix between mommy blog, Pinterest, tutorials & fashion magazines all packaged neatly into a dream site for all mothers.
As they pointed out summer has come to an end, "but that doesn't mean that the sun isn't capable of doing damage to our skin." Which is exactly why they have chosen to share with their readers some of their favorite sun protective fashions. While Daily Mom still encourage the use of non-toxic sunscreen, this article focuses on the factors that make UV protective clothing equally, if not more, important.

Also included in this skin saving article is 10 easy steps you can take to limit your exposure to UV rays.
One of their favorite sun protective clothing items is the SummerSkin Raglan Pullover in Charcoal Grey. Doesn't this mommy look fabulous?! "From the moment we opened the package, we knew that this is not your typical "sun protective" clothing."
One fact that they stress is that "going out into the sun unprotected on any day has the potential to subject your skin to premature aging or, worse, skin cancer. The truth is that we are exposed to harmful UV rays every time we are in the sun whether it be hot or cold, cloudy or hazy, or bright and sunny." This makes sun protection an important year round concern.
Not everyone lives at a resort or vacations year round which is why we here at SummerSkin focus on creating pieces that women can wear everyday while still looking and feeling great AND with the added benefit of sun protection and anti-aging. "Their fabrics are luxurious, breathable and most of all comfortable! Even better, none of the material has been treated with chemical additives." Our founder is a pharmacist after all!
Mom's everywhere have their hands full making versatility an essential for clothing, accessories, and just about everything else you can think of. This is why the Daily Mom loves the Endless Summer Scarf. Besides its versatility they also love that, "it's small and light enough to throw in your bag or purse for the day, and fashionable enough to be worn for any occasion."
Our favorite line of the article: "you'll quickly forget you're wearing sun protective clothing when you wear SummerSkin." Thank you Daily Mom for such an enormous compliment! It has been our mission from the start to create fashionable sun protective clothing to help women feel fabulous while also protecting their beautiful skin. No one wants to be confused for a safari guide or surf instructor at the coffee shop.
Check out the full article here.