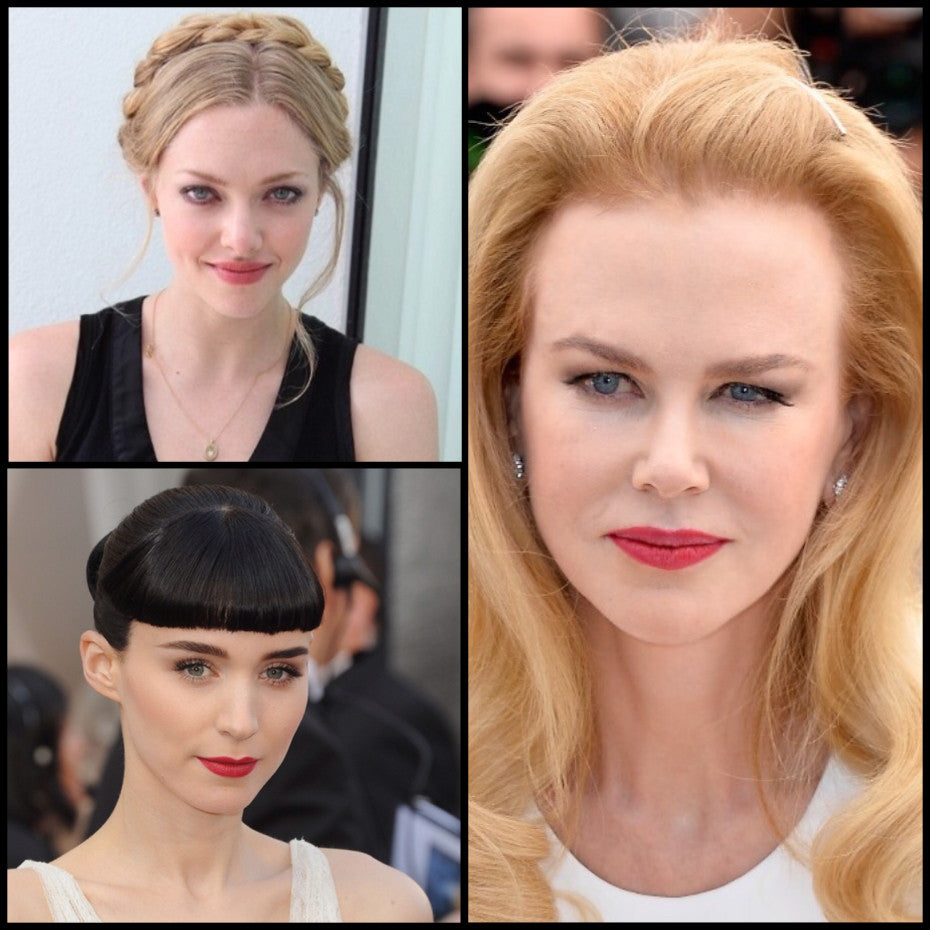 Fair & Fashionable: Our Favorite Pale Celebs
Over time tanned skin has become the Western beauty ideal for many. However we believe you don't have to be bronze to be stylish and sexy and we have the celebrity power to back it up! Whether you say "pale", "fair-skinned," or "melanin-challenged," you can feel good about taking care of your skin and avoiding sun damage just like these celebs.
Here is a list of some of our favorite gorgeous celebrities who don't tan. You will want to steal both their beauty and style secrets!
Nicole Kidman
With porcelain skin and strawberry blonde hair, Nicole Kidman exudes a delicate beauty. She enhances her features with bright fuschia lipstick and soft pink blush. Dark black mascara and perfectly shaped brows makes her piercing blue eyes stand out.
Style tip: With a warm hair color like Nicole's, choose coral or peachy makeup and avoid cool bluish-purple tones.
Image via Lainey Gossip
Julianne Moore
Freckled redheads are beautiful — just look at Julianne Moore, the face of L'Oréal! This natural beauty sticks with soft, neutral shades of blush and lip gloss and minimal eye makeup. While her makeup is simple, she turns up the heat in a bright red dress.
Julianne celebrated her 54th birthday just yesterday, which came as a total shock to all of us! Her youthful beauty probably has a thing or two to do with protecting that porcelain skin from too much exposure to the sun, as 90% of the signs of aging is directly due to the sun.
Style tip: Redheads can wear red! Just don't try to match your hair — go for a pinkish or orange-red so you don't clash.
Image via International Business Times
Amy Adams
Amy Adams softens up her alabaster coloring with sandy pink lips and blush paired with neutral eye makeup. Her lashes frame her blue eyes with a thick, dark coating of mascara. The burgundy dress she's wearing complements her auburn hair.
Style tip: Unless you're going for a goth look, blush is a must for fair-skinned types. Even a barely-there neutral will add dimension.
Image via Wikia
Cate Blanchett
Shimmery gold and brown eyeshadow makes flaxen-haired Cate Blanchett's light blue eyes smolder. Her lips and cheeks are defined in a conservative neutral peach hue.
Style tip: You don't have to be tan to wear black! Just make sure you add some color to your face to avoid looking washed out.
Image via E Online
Emma Stone
It's no wonder she's the face of Revlon. Ivory-skinned stunner Emma Stone has a healthy glow with the help of rosy pink lipstick and blush skimming her cheeks. Her forest green tulle gown looks fantastic with her green eyes and red hair.
Style tip: Browns, greens, and auburns are foolproof matches for creamy skin.
Image via Daily Mail
Gwen Stefani
Gwen Stefani's hair is as platinum as her albums! The fashion plate frequently rocks bold red lipstick and dark, dramatic eyes with confidence.
Style tip: You can go blonde even if you have a fair skin tone. Work with a professional colorist to find the exact shade for your complexion.
Image via Us Magazine
Christina Hendricks
Mad Men star Christina Hendricks turns heads with her voluptuous curves and flaming red tresses. She brightens up her milky complexion with rosy cheeks and pink, glossy lips. Her big, blue eyes are completely lined in black and fringed with false lashes.
Style tip: Going with black eye makeup? Keep the rest of your look rosy and understated to avoid looking too severe.
Image via InStyle
Amanda Seyfried
Blonde and blue-eyed Amanda Seyfried looks natural with just a subtle touch of makeup. A rosy glow and soft pink lips brighten up her skin while she plays up her pale blue eyes with mascara. A crown of Dutch braids give her a youthful innocence.
Style tip: An updo brings all the attention to your face and helps your eyes pop. Don't neglect the mascara.
Image via Pretty Designs
Dita Von Teese
With her ivory skin and blood red lips, this raven-haired burlesque beauty could easily pass for Snow White. Not one for the natural look, Dita is the epitome of pin-up glamour with perfectly coiffed curls and an impeccable cateye.
Style tip: Now this is how you do dramatic. With jet-black hair and crimson lipstick, this is one time you want to forgo the peach or rose blush.
Image via Fashion Diva Design
Michelle Williams
Flawless red lips are an arresting combination with Michelle Williams' brown eyes and blond hair. Note that her artfully arched brows are several shades darker than her hair, creating a striking frame for her face.
Style tip: Don't neglect your eyebrows! Fill them in with pencil or even eyeshadow to anchor your look.
Image via Gypsy Junkies
Rooney Mara
Another brunette head-turner, Rooney Mara's shiny dark hair frames her face with blunt bangs. Not a single hair is out of place and her eyebrows are perfectly sculpted. She goes easy on the eye makeup, with a touch of mascara, completing the look with a bold red lip.
Style tip: It's true, you want to avoid white, but rich creams and ivories can be striking on lighter skin tones.
Image via Listal
There you have it: proof pale can be pretty — and that a good SPF is the best beauty accessory. Who's your favorite pale celeb, and who did we forget? Let us know in the comments below!
Do you have fair skin? What makeup techniques do you swear by?