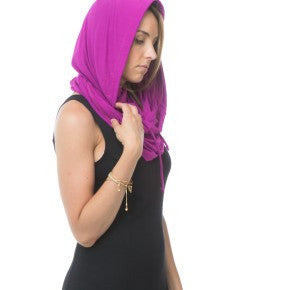 Endless Summer Scarf Named a "Perfect Travel Gift for Women"
52 Perfect Days provides travel articles, advice and tips to help you travel like a local. For the holiday season they have rounded up the 52 best travel gifts and accessories for the female explorer and adventurer in your life.
This list, compiled by global nomad Mary Garrison, includes everything from comfortable travel shoes and packable jackets to portable wifi hotspots and bamboo utensils. There is something for every travel loving woman in this roundup! We are thrilled that the Endless Summer Scarf was chosen to be #19 on the list! Below is just 3 of the endless ways to wear our versatile and travel friendly scarf.
"Upon initial glance, SummerSkin's Endless Summer Scarf resembles a cotton skirt that can be dressed up or down. But pull out the drawstring and one finds a very versatile item that can be also worn as an infinity scarf, shoulder wrap or an instant hood." -Mary Garrison

See all 52 perfect travel gifts for women here.