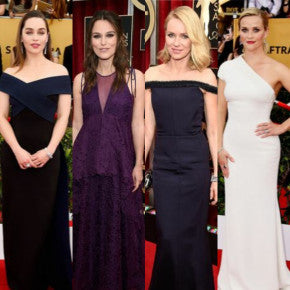 Our Favorite Pale Beauties & Award Season
Award season is upon us. The Golden Globes, SAG Awards, Grammy's and the Oscars! That's a lot of red carpets, updo's, stunning floor-length gowns and many opportunities for Jennifer Lawrence to take a spill!
Here are a few of our favorite celebrities who aren't afraid to rock their natural glow on the red carpet:
1. Emilia Clarke
Stunning in an off-the-shoulder Donna Karan Atelier gown, Emilia's beautiful porcelain skin looks youthful and healthy. And who says you can't wear black and navy?
Image via Pop Sugar
2. Keira Knightley
With a bun in the oven Keira has chosen a loose fitting plum Erdem floor sweeping dress. Her signature milky skin and contrasting dark locks complete this effortless and chic look.
Image via Pop Sugar
3. Naomi Watts
British beauty Watts knows the secret to anti-aging. You would never guess she is 46 thanks to her pale, pretty and flawless skin. We love her in navy!
Image via Pop Sugar
4. Reese Witherspoon
This one shoulder Georgio Armani gown could not have been more perfect for Reese! The fit is flawless and so is she!
Image via Pop Sugar
Thank you to Keira, Reese, Naomi and Emilia for showing the world that TANNING IS OUT!
Who has been your favorite celeb on the red carpet so far this season? Let us know in the comments below.