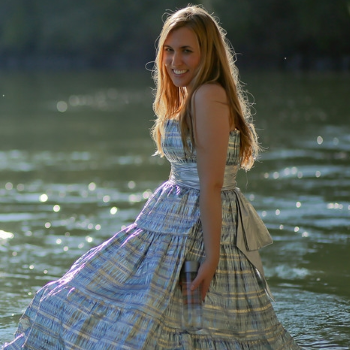 Under the Umbrella with Michele Burklund
This week, we go Under the Umbrella with Michele Burklund AKA the Healthy Fashionista. Michele is a health and fashion blogger, natural health expert and soon to be doctor! Be sure to check out Michele's blog Healthy Fashionista where you will learn natural health tips in a fun and fashionable way to help you look amazing from the inside out.
Name, Age, Location
Michele Burklund, 32, Seattle WA
How would you describe your lifestyle?
I would describe my lifestyle as a work in progress, the irony of becoming a doctor is that it can be really stressful and time consuming so I squeeze in times to exercise.  I love being active and doing things outdoors like hiking and camping.  My diet is clean and I typically eat lots of fruits and veggies (whatever is in season) as well as juice.  I'm always working on ways to reduce my stress by meditation, breathing, running, getting out in nature, and even simply taking a break.
When did skincare become a priority?
Skincare has always been a priority in my life, but my interpretation of what that means has changed.  During my mid twenties, I started noticing fine lines and freckles on my skin that changed my skincare regime focus to be on prevention and healing rather than just moisturizing and blemish control.
Why is your skin a priority?
Skin is the largest organ in our body and the most exposed!  The simplest way to keep our skin healthy is to focus on prevention.  Melanoma runs in my family (both my mother's and father's side) and I know that the choices I make today can have consequences years later.
What is your healthy skin regimen?
My morning routine involves a toner (right now it's Keihls Calendula) along with MyChelle skin moisturizer with SPF and then a little retinal serum also by MyChelle.
I also love to look inside my kitchen and make my own facemasks in the evening.  The simplest ingredients can have powerful results.  My classic facemasks are avocado & honey or papaya and lemon.
I make a lot of my own oils to apply to my skin at bedtime. Right now I'm infusing gotu kola and calendula in jojoba oil.
What is your favorite piece of clothing in your closet, and why?
My 10- year old pair of Levi's because they fit perfectly and I can wear them with anything.  I can dress them up with a pair of Valentino rockstuds or throw on a pair of flats and go the farmers market.
What shoes do you pair with your little black dress? Your jeans?
With a black dress I would probably keep it classic and wear a pair of black satin Jimmy Choo's with a jeweled embellishment.  Anything goes with jeans… it all depends on the occasion.
How would you define your personal style?
My personal style is very eclectic.  I'm a big fan of mixing highs and lows so on a daily basis I will have something vintage mixed with a couture piece.  I love dresses and am always finding ways to play them down to wear around town, so most likely they will be paired with an old pair of boots.
If you could go back, what do you wish you could teach your younger self?
I would have told my teenage self to avoid tanning beds in high school, throw on the sun block and starting taking vitamin D!
If you are interested in participating in our interview series, please answer as many of the questions above as you would like, and send them to us at info@yoursummerskin.com, and feel free to include a picture of yourself in Your SummerSkin!