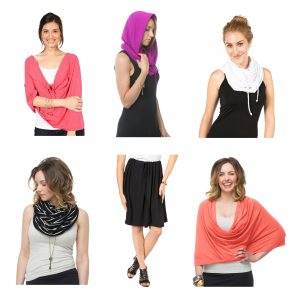 Philadelphia Inquirer Includes SummerSkin in Their Round-Up of Sleek Scarves
Elizabeth Wellington, Fashion Columnist for the Philadelphia Inquirer, is calling this summer the #summerofthescarf. Wellington wrote a fabulous article on why the scarf, once a cold weather item only, is popping up everywhere this spring and summer. Included in their highly competitive round-up of sleek scarves was the SummerSkin Endless Summer Scarf.
Here's what a few of today's hottest scarf designers and industry experts had to say about the newest staple item in everyone's wardrobe, men included!
Ken Downing, Neiman Marcus' Fashion Director:
"You just wrap yourself in them over and over and over again. And they look great with a moto jacket … It just adds a dose of cool to everyone's wardrobe."
Karen Giberson, Executive Director of the Accessories Council:"They are a versatile and practical item in addition to just being pretty."
Summer Kramer, SummerSkin, LLC:
"It's such a massive trend for the season. It's a natural fit for what we do, and it's the easiest way to spice up your outfit."
Lele Tran, Old City co-op US*U.S.:
"The fashion industry is very competitive and making clothing in different sizing that fits everyone is a real challenge."
To read the entire article and learn more about the #summerofthescarf and just why "they are among the most timeless of silhouettes" click here.