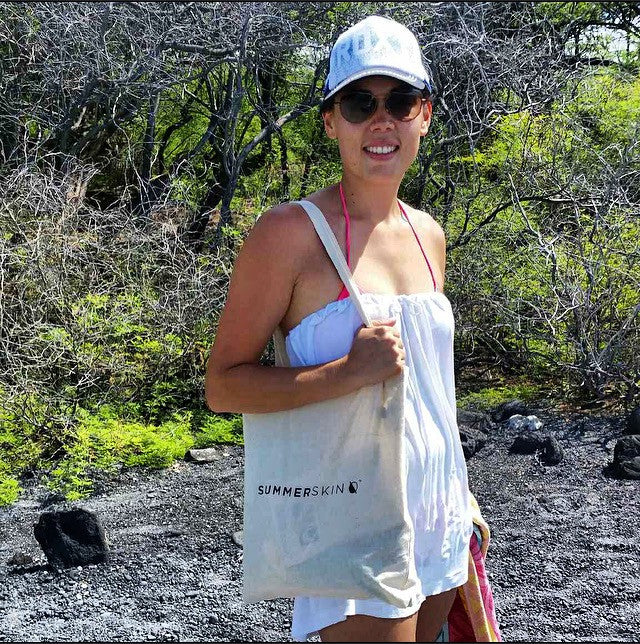 UNDER THE UMBRELLA WITH NICHOLE MUSTOE
This week, we go Under the Umbrella with Nichole Mustoe, stylist, color technician, curl specialist and co-owner of Defining Image Salon. Read on to learn more about this busy mom's personal guide to health and beauty. 
Plus, look how adorable she looks in the aquamarine Dolman Top while vacationing in Hawaii!
Name, Age, Location
Nichole
, 33, Scappoose Oregon
How would you describe your lifestyle?
My lifestyle is what I would consider fairly laid back.  I like to be a homebody just as much as I like to go out on an adventure.  I love to be outside in the sun as much as possible!  Whether its working in my yard or out on the boat, I'm happy as long as its sunny.  I have 2 kids (3 if I can count my husband) and 2 dogs that keep me fairly busy.  Summertime is when we are constantly on the move, house projects, kids activities, vacations, etc.  I love having friends over for BBQ's in the summer or really any time for that matter! 
When did skincare become a priority?
I have considered skincare a priority since a really young age, about 14 or so.  I remember my mom taking me to the makeup counter at Nordstrom and the woman telling me never to put makeup on without first putting on moisturizer!  About the same time I was reading an article in a magazine that said you should always use a moisturizer with at least SPF 15 in it, so being young and easily persuaded by anything written in a magazine, that's what I did.  I wouldn't even consider using anything without it.  And its something that's really stuck with me, even to this day I wont use one without it. 
Why is your skin a priority?
My skin is a priority for many different reasons, primarily because its the only skin I've got!  I try hard to be as gentle to it as possible.  Moisture, SPF, avoiding excess sun even though I love it are all things I do to keep my skin healthy.  I also love love LOVE to play with makeup!  I have a million different shadows, blushes, lip gloss, you get the idea.  If I don't take care of my skin, especially my face, then I won't have a smooth canvas to apply my makeup to.
What is your healthy skin regimen?
My regime... I'm afraid this is going to be long.  I have really dry skin, so for my body I use a gently moisturizing body wash, exfoliate once every week or so, and I use a rich but light coconut and orchid extract lotion, cocktailed with an oil in the summertime to give an extra boost of moisture when I get even dryer.  As for my face, I wash with a skin balancing cleanser and a facial cleansing brush, I use the Dermalogica Skin Prep Scrub once or twice a week, and then follow with a balancing toner, both by Shisedo.  I use the Alba organics even advanced moisturizer with antioxidants and SPF 15, and Laneige firming eye cream, its a Korean Brand.  Then I use a BB cream that is a Korean Brand as well, it has even more antioxidants and SPF 30.  I have been slowly switching some of my products over to Korean brands.  Their skincare is so much farther ahead then ours, and as a culture the women there really take care of their skin.  If you know anything about the Korean cleansing regime, then you know what I am talking about! They also have a very demanding consumer base, and really scrutinize the ingredients in their products which generally makes them higher quality and similar price to those found in the US.  Then in the evening I use the Simple brand Micellar Cleaning Water, Dermalogica Age Smart overnight repair serum, and just plain old Cetaphil lotion.  Whew that sounds like a lot!
What is your favorite piece of clothing in your closet, and why?
I would have to say that my favorite piece of clothing is my black leather Moto Jacket.  I got it at H&M a few years ago, and I can wear it over almost anything!  I've literally worn it over party dresses, formal dresses, or my favorite way to wear it is with a white tank, great heals and distressed jeans.  Because its from H&M it was obviously inexpensive, and obviously fake, but I love it so much I'm considering springing for a real one.
Which shoes do you pair with your little black dress? Your jeans?
Little black dresses always call for killer heals!  As for jeans, well again, I'm going to go with some sort of heal (noticing a trend here?)  whether its a great bootie, a wedge, or a 5 inch pump, anything goes with a great pair of jeans.
How would you define your personal style?
My personal style... that's a hard one!  I would say I am current, but not overly trendy.  I like to mix and match soft feminine pieces, with distressed or structured pieces for contrast.  I love boots and heals, and statement jewelry.
If you could go back, what do you wish you could teach your younger self?
If I could go back, I'd tell my younger self to stay away from Diet Coke!  All those chemicals will give you years of stomach pains.
If you are interested in participating in our interview series, please answer as many of the questions above as you would like, and send them to us at info@yoursummerskin.com, and feel free to include a picture of yourself in Your
SUMMERSKIN
!