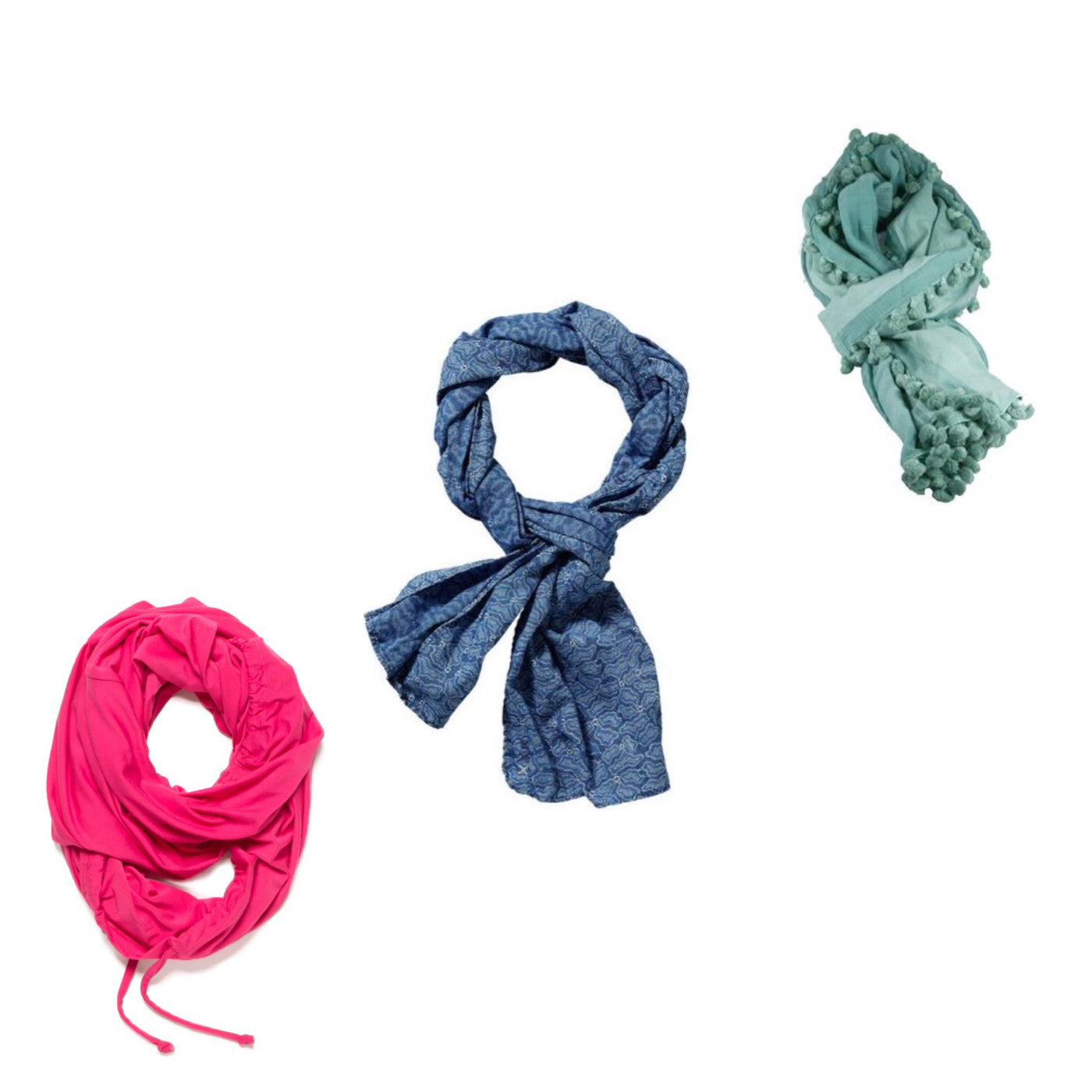 Summer Scarves: Which One Is Perfect for You?
Summer scarves? I know. It's only March, and some parts of the country are still blanketed in snow.
But here in Portland, it's sunny and 61 degrees! It feels like the whole city is smiling. Here in rainy Portland, basically anything above 60 degrees is fair game for breaking out the shorts and Birkenstocks (with socks, obviously).
I'm joking, but spring and summer fashion is on our minds. In that spirit, I've put together a little guide with 5 summer scarves to help you pick the perfect one.
If You Need a Beach Cover-Up: Endless Summer Scarf
I'm in love with our Endless Summer Scarf! It comes in many colors, and the fabric is the softest bamboo/cotton blend. You can wear it endless different ways (as a scarf, skirt, halter top, shoulder wrap, etc). The ultraviolet protection factor (UPF) is the icing on the cake — it blocks 98% of UV rays, keeping your skin safe and youthful.
If Your Closet Needs a Pick-Me-Up: Animal Print
Feel like the winter blahs have taken over your wardrobe? This Kate Spade printed viscose scarf ($98) is a jolt of caffeine! The simple color scheme makes it versatile, whether you're wearing a comfy black dolman top or bright, summery blouse. And the jungle print adds a subtle edge without going full-on rock 'n' roll.
If You're Feeling a Little Bohemian: Pastel Pom-Poms
The bauble scarf from Canvas Home ($98) is a silk-cotton blend, making it comfy and lightweight for warm days. I love the on-trend pastel mint color! And don't little pom-poms make everything more fun? Pair it with cream and dark chocolatey browns if your skin tone is warmer, or wear it with bold black and white if you look best in cooler colors. Either way, I'm sure you'll be doing something artsy like brewing homemade iced tea.
If You Need a Wardrobe Staple: Classic Denim
Everyone loves blue. It's universally flattering! And a denim-hued scarf is an effortless match for your favorite jeans. This washed indigo scarf from Scotch & Soda ($69) fits the bill perfectly. The gentle, wavy pattern provides interest without being too distracting. Perfect for a crisp evening. (I'm picturing marshmallows around a campfire.) Wear this with your classic crisp, white button-down, some tailored shorts, and metallic strappy sandals.
If You Want Something Cozy: Feathery Cashmere
The hand feel of fabric is extremely important. The older I get, the more I value soft, quality material (bye bye, scratchy polyester!). So this gauzy cashmere scarf ($74) is a dream come true. Pair this cream one with a flowing rose top or a sky blue cotton shirt. If whisper-gray is more your color try pairing it with blues and lilacs. Either way, it'll keep you from freezing in an air-conditioned movie theater or when the temperature drops at the beach.
OK, your turn! Which of these summer scarves would you wear? Do you already have a go-to scarf for summer nights? Let us know in the comments below!