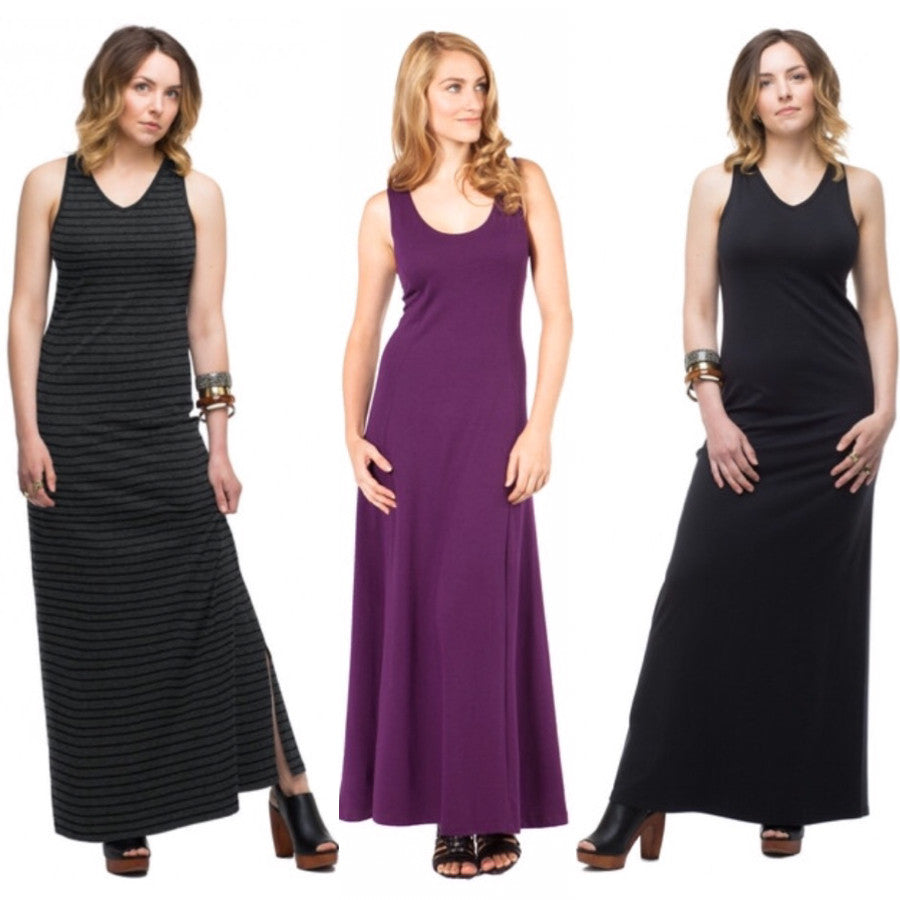 10 Reasons Why Maxi Dresses Are the Best Thing Ever
We love maxi dresses! They've been everywhere for the past few years, and for good reason. We can't help gushing about this wardrobe staple, so we've rounded up 10 of our favorite things about maxi dresses.
1. They're comfy.
When you just want to stay in your PJs all day, a maxi dress is almost as good. And those made from natural fabrics are light and breathable. Our maxi dresses are made from a soft bamboo/cotton blend, so they feel great on your skin without giving off that college-student-in-sweats vibe. Pull it on over your head, slip on some cute flats, and go!
2. They're flattering.
A maxi dress that gently flares from the waist can highlight your curves while downplaying any trouble spots. A scoop or v-neck is flattering, drawing the eye vertically rather than horizontally. And you can add a high belt to create an empire waist, lengthening your legs.
3. You don't have to worry about matching.
Some mornings, putting together an outfit can seem way too daunting…especially when you realize your favorite slacks are in the wash. Most maxi dresses look great with basic black or brown accessories, so you can toss it on without worrying about clashing.
4. You don't have to shave your legs.
You know you appreciate this one! Maxi dresses give you a ladylike edge while saving you those precious minutes spent shaving. No one has to know it's No-Shave January under there.
5. Sun protection.
Throw on a maxi dress over your bathing suit, and you're ready for the beach. As 70-year-old Maye Hayes Jepsen told the Times Free Press, "I live at the beach, and maxis are everywhere…They are cooler than shorts in our Southern humidity." Not only are they loose and breezy, but maxi dresses with sun protection (like ours) can block UV rays. They're wearable sunscreen!
6. They're feminine.
Maxi dresses are flirty. Opposite of the bag-like shift dress, maxi dresses don't hide your figure. You can be comfortable and still look like a woman. And you can easily up the feminine factor with jewelry, like an armful of silver bangles, a delicate pendant, or shoulder-grazing earrings. Finish off the look with ankle boots in the winter, and metallic gladiator sandals in the summer.
7. They're versatile.
Unlike jeans, you can wear a maxi dress to work, a wedding, a dinner date, and the pet store. Maxi dresses are a blank canvas — you can lounge in it on the weekend or transform it into a flashy show-stopper. Adding a cropped blazer can take you from the beach to the movie theater. Or change up your look by swapping flip-flops for classy wedges or heels.
Some pregnant women even swear by maxi dresses, because they can accommodate a growing bump while keeping you stylish and comfortable. As one Dunlap, South Carolina resident told her local paper, "I was wearing one when I went into labor." Now that's dedication!
8. They're low-maintenance.
Who has time for dry-cleaning? You can throw most maxi dresses in the washing machine and be just fine (although some need to line-dry). Many also resist wrinkling, so you can roll one up into a tight little burrito and tuck it in your bag for your next vacation.
9. No wardrobe malfunctions.
A maxi dress means you don't have to worry about your shirt coming untucked, a button gap in your blouse, or anything riding up when you sit down. It's literally got you covered. A maxi dress is perfect for ensuring that more conservative events (church, tea with the in-laws, or that fancy baby shower) are worry-free.
10. They're classic.
As much as we love a good trend, maxi dresses date back to the '70s, and they aren't going out of style anytime soon. They have major staying power due to the wide variety of patterns, styles, colors, and fabrics available. A solid-color maxi in a classic shape will see you through changing fads; all you have to do is update an accessory or two.
OK, that's our ode to the mighty maxi dress! What'd we forget? Let us know in the comments — or make your argument for the Snuggie instead.