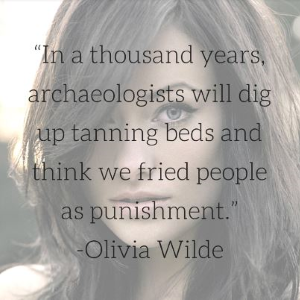 The 10 Best Quotes About Sun Protection
Love the sun? Don't hold back! Go running outside, take the kids to soccer practice, or head south for a family vacation — just don't forget to take care of your skin.
It's easy to throw caution to the wind and run into that warm glow sans sunscreen. But being careful in the sun isn't just a healthy decision, it also helps keep your skin looking young and smooth. Thanks to sunscreen and cute summer clothing, you can enjoy lunch on the patio and protect your skin.

Need some sun protection motivation? Here are 10 quotes to inspire you.
"I will never choose between UV protection and beauty again." -Hillary Fogelson
I love Hillary Fogelson. As a three-time melanoma survivor, she's made it her mission to educate people on the importance of protecting their skin in the sun. She even has a website dedicated to sun protection.
The takeaway: you don't have to forgo beauty to protect your skin. They go hand in hand! What's more glamorous than a flowing maxi dress, stunning shades, and a classic wide-brimmed hat?
"I just don't think there's a sunscreen that gives you enough protection." -Brooke Burke
I couldn't have said it better myself. Sunscreen is an absolute necessity. We should all wear it — even when it's cloudy, but sunscreen alone isn't enough. Shade, the right clothes, and common sense are your best weapons against sun damage.
"I don't mind being pale…" -Taylor Swift
Photo: Jana Beamer
Tanning is out! (It's true. There's even a Twitter for it.) Everyone benefits from good skin protection, but it's even more important if you have fair skin. We pale girls tend to burn easily.
Stars like Taylor Swift are embracing their natural complexion, proving you don't have to be bronzed to be beautiful. Here are a few of our favorite pale beauties from the red carpet.
"I never go out during the day without sunglasses." -Tory Burch
Sunglasses protect your eyes and the skin around them from UV light. The best part is you don't even need to break the bank to get a good pair! You can find stylish sunglasses with 100% UV protection, like these, for less than $5. Look for "UV 400" on the label, and find out which lens color is best for you here.
"I'm a big believer that if you focus on good skin care, you really won't need a lot of makeup." -Demi Moore
It's hard to believe Demi Moore is over 50. Her secret? Good skin care. According to the American Academy of Dermatology, excessive sun exposure is one of the leading causes of premature aging. So bring on the scarfs, hats, and shades! Your skin will thank you.
"Sun protection doesn't need to be complicated or expensive — it needs to be consistent…" -Hillary Fogelson
Have you ever stood in the beauty aisle, staring at a giant wall of products that all claim to protect your skin? It's easy to feel like you should try them all. But actually, you're better off creating a simple routine you know you can maintain for years. Here are the most important elements of a good skincare regimen at every age.
"There's no such thing as a healthy tan." -Dr. Walayat Hussain, dermatologist
Photo: Henry Burrows
Is it possible to get a healthy glow? Not if it's from the sun. No amount of tanning is good for you.
So how can you enjoy time outside without getting a tan? It's actually pretty simple. Just wear the right clothes and reapply sunscreen every few hours.
"I like to wear hats so I don't get super tan…" -Alessandra Ambrosio
Photo: Laurent Jean Philippe
Supermodels might look tanned a lot of the time, but most of them use fake tanner (not the sun) to get ready for bikini shoots. Models like Alessandra Ambrosio wear protective hats to keep their skin healthy and youthful.
"In a thousand years, archaeologists will dig up tanning beds and think we fried people as punishment." -Olivia Wilde
Photo: jingdianmeinv
Did you know that 11 states have banned indoor tanning for minors under 18, as of January 2015? Brazil and New South Wales, Australia have banned it for any age. Why? You get more UV light per minute from most tanning beds than you'd get from the sun. That makes indoor tanning extra dangerous. Basically, if you care about your skin, don't use them!
        10. "I have sunscreen on my face every day…" -Julianne Moore
Photo: Gareth Williams
Julianne Moore's not just an Oscar winning actress. The fair-skinned redhead also knows a thing or two about sun protection. That's how she made it into her 50s with gorgeous, healthy skin.
Are you ready to join the speakers of these sun-savvy quotes? Or have you been diligently protecting your skin for years? Either way, you shouldn't have to sacrifice your fashion sense for your health. We're all about stylish sun protection.
Want to learn how to be more sun savvy like these celebs? Sign up for our newsletter and receive great skincare tips and sun savvy tricks!