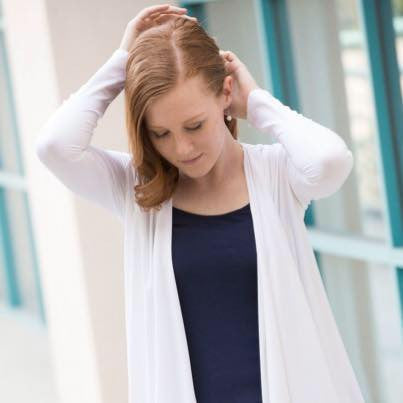 Under The Umbrella with Shelby Anderson
This week we go Under the Umbrella with California girl, Shelby Anderson. With porcelain skin and fire red hair this beauty has been very aware of the dangers of UV rays since childhood so she knows a thing or two about skincare!
.
Name, Age, Location: Shelby Anderson, age 20, Huntington Beach, CA.
How would you describe your lifestyle? On the go all the time haha! Being a college student I'm constantly on the run, whether its going to class or work I'm usually doing everything on the go. Although I do try to make time to get in some good sleep, I always try to get 8 hours, it's the only way that I keep going all day (for some reason coffee doesn't work for me). 
When did skincare become a priority? I'd have to say skincare became a priority pretty early on, being a redhead my skin is SUPER sensitive to basically everything. My mom was always slathering me with sunscreen or throwing a hat on my head when I was little. Now I have had to take on this responsibility myself, and though it may be a lot of work, its worth it. I love my skin.
Why is your skin a priority? My skin is a priority because its such a huge part of who I am. In both the literal and metaphorical sense. I am very proud of my paleness and it goes along great with my red hair. I feel it is canvas that I can do whatever I want with. 
What is your healthy skin regimen? Lots and lots of moisturizer! Living in California it is pretty dry out so I moisturize every morning and night and that really helps keep my skin clear. I make sure to use a soft cleanser in the morning and a stronger cleanser in the evening to remove all my makeup. I also try to hold off on the makeup on the days that I don't go out much.
What is your favorite piece of clothing in your closet, and why? My favorite piece of clothing would have to be my comfy denim button down. It's my one piece of clothing that can pretty much go with everything. I love to pair it with a big chunky necklace, a pair of brightly colored jeans, and a fun flowy top. I also think it goes well with summery dress or can be a part of a fun, layered look. It works really well to cover my arms to help prevent them from getting burned too. 
Which shoes do you pair with your little black dress? Your jeans? Black dress: I usually grab my black character shoes, they go with pretty much every style of black dress. They have a good heal, don't slip (no blisters), and hey if I ever need to spontaneously break out and dance I will have the shoes for the occasion! It may sound like an overly sensible choice but hey I love 'em! Jeans: Gimme my black boots! I love wearing my knee high black boots, I basically wear them with everything. 
How would you define your personal style? My personal style ranges all over. Some days I love to go all vintage and wear my sweater with a crystal collar, another day I will wear my plaid button down with my skinny jeans and black boots. I really love trying all different styles, but I would have to say the white, romantic, classic style would be my overall favorite.
If you could go back, what do you wish you could teach your younger self? I would teach myself to be patient and that the world is so much bigger than what I am seeing at that moment. There is so much more to experience and learn than just what the little fishbowl of high school can offer. It may seem all there is, but there is so much more. Be patient. 
If you are interested in participating in our interview series, please answer as many of the questions above as you would like, and send them to us at info@yoursummerskin.com, and feel free to include a picture of yourself in Your
SUMMERSKIN
!