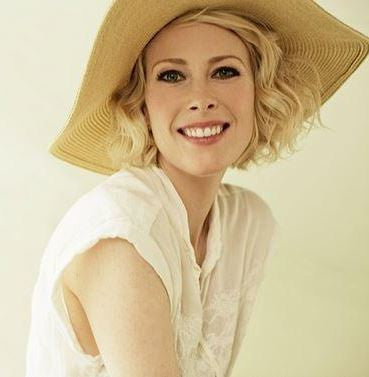 Under the Umbrella with Hillary Fogelson
This week, we go Under the Umbrella with Hillary Fogelson AKA "the sunscreen guru". Hillary is a three time melanoma survivor and author of  the LA Times Best Seller, "Pale Girl Speaks: A Year Uncovered". She has dedicated her life to educating others about the dangers of UV exposure. Her up beat and witty approach to sun safety is refreshing and her personal story will inspire you to be proactive with your skin health. To learn more about Hillary and all of the great work she is doing visit her website.
Name, Age, Location
Hillary Fogelson, 38 years old, Los Angeles California
How would you describe your lifestyle?
I grew-up in the South, but I think I've become a true California girl.  When you live in Southern California, your lifestyle revolves around outdoor activities.  I'm fortunate to be able to exercise outside almost every day of the year.  And now that I'm a mom, I love that I can hike with my daughters or go for long family bike rides.  It's a good life.  I'm really fortunate.
When did skincare become a priority?
I was first diagnosed with melanoma at 25 years old.  I quickly realized that protecting my skin had to be a priority – and a lifelong commitment.  Along with full body skin checks, I made sure I was never in the sun without protection.  My closet was suddenly filled with large-brimmed hats!
Why is your skin a priority?
It's a priority because I want to stay healthy for my family and because I want to look young for as long as possible!  There's a great line in the movie Postcards from the Edge.  Shirley MacLaine's character says, "I don't mind getting old.  I just mind looking old."  I couldn't agree more!
What is your healthy skin regimen?
I have combination skin, so I'm always looking for products that keep my skin moisturized without making it oily.  Also, now that I'm starting to see signs of aging, I look for sun protection with added anti-aging benefits like Olay's Total Effects SPF 30.  I try to keep my regimen as simple as possible.  I use a mild cleanser, followed by a moisturizing sunscreen.  Sometimes I use a BB cream over my sunscreen, which helps even out my skin tone.  And I drink tons of water.  It's taken me nearly 20 years to learn, but I think the key to healthy skin is hydration.
What is your favorite piece of clothing in your closet, and why?
My J Brand black leather pants.  I pair them with everything from a neutral blouse to a pattered sweater to a tank top and bomber jacket.  They took a while to fully "break-in," but now they're so comfortable I feel like I'm wearing a second skin!
What shoes do you pair with your little black dress? Your jeans?
I'm trying to be more daring with my style choices.  My daughters make fun of the fact that my entire closet is "gray".  I just invested in a pair of leopard Saint Laurent heels that look amazing paired with a black dress or my leather pants.  With jeans, I'm obsessed with my black velvet Repetto loafers.  They're a little east coast preppy, a little rock n' roll.
How would you define your personal style?
I think it really changes depending on my mood.  Some days I'd describe it as urban chic, other days I go more bohemian.  It always has a little edge, though.  You'll never see me in a frilly dress – despite my daughter's efforts!
If you could go back, what do you wish you could teach your younger self?
I wish I could teach my younger self the importance of sun protection.  It's almost impossible for a teenager to imagine getting wrinkles, let alone skin cancer.  When I think back to days spent at the beach, trying to get tan….  It all comes down to self-acceptance.  There are things about ourselves we wish were different, but you have to work with what you're given.  Embrace your skin color and protect it.  When it comes to your skin, there are no second chances.
If you are interested in participating in our interview series, please answer as many of the questions above as you would like, and send them to us at info@yoursummerskin.com, and feel free to include a picture of yourself in Your SummerSkin!