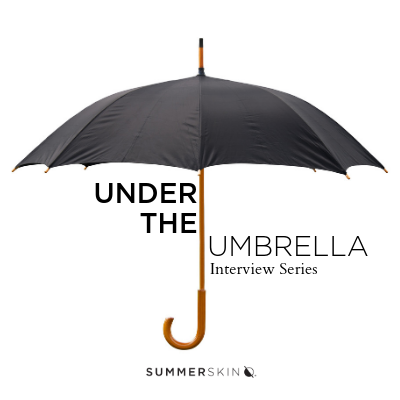 Under The Umbrella with Charlotte Weiss
In honor of Melanoma Monday, we are honoring an inspiring survivor of both ocular melanoma and breast cancer. Her passion for life and helping others is evident to everyone she meets, and we are thrilled to go Under The Umbrella with this amazing woman!
Q: Name, Age, Location
A: Charlotte Weiss, 53 years old, Portland, Oregon.

Q: Where have you lived?
A: I was born in Beaumont, Texas. We moved to San Diego shortly after as my dad was in the Navy. After my 1st birthday, we moved to my dads home town of Portland, Oregon and I have lived in Oregon since 1967.

Q: How do you fill your days?
A: I fill my days surrounded by children because I am a special education para-professional at an elementary school. On the weekends I love hanging out with my family. We love to spend time in the woods. I love hiking, hunting and camping. I love to cook and bake. I love to exercise, bike ride and walk!
Q: Why is your skin a priority?
A: My skin is a priority because I am light skinned and I have vitiligo. It is also important to me to be cautious of the sun because growing up we had no sunscreen, and I remember getting really sunburned. I also remember not ever having eye protection. One of the main reasons my skin is a priority is because I have had 2 primary cancers in the past 4 years. I was diagnosed with breast cancer in 2015 and I had an ocular melanoma in 2017. I am not totally convinced that the melanoma was not caused by lack of protection.
Q: What is your one skincare product you can't live without?
A: Sunscreen
Q: What is your favorite piece of clothing in your closet, and why?
A: I love all my clothes, but if I had to choose, I would say my favorite pair of jean shorts.
Q: How would you define your personal style?
A: I have many styles and they are depending on my mood. I love retro/vintage clothing, sport team clothes. I love jeans and cowboy boots with a flannel. I love flowy dresses, but most of all...I love jean shorts and a tank top. So I would have to say my favorite style is casual with a kick!
Q: If you had $50 and an hour to yourself, what would you do?
A: If I had $50 and an hour to myself I would probably get a massage, but i have been known to be very spontaneous, so I may get a diet coke, fill up my gas tank and go for a drive while listening to loud music. Or i may grab a coffee and buy a book and go sit someplace sunny for the hour!
Q: What's one thing in your house that was absolutely worth the money you spent?
A: I think the best thing I have spent money on is my "cancer free" gift to myself...my VITA-MIX
Q: If you could go back, what do you wish you could teach your younger self?
A: I would teach my younger self to take care of myself better by wearing sunscreen & sunglasses and protecting myself from too much exposure. I would also teach myself to have more fun, take more risks and travel more before settling down. I would also push myself and go to college, learn a foreign language fluently & use those skills by traveling and maybe even teaching English to kids in another country.