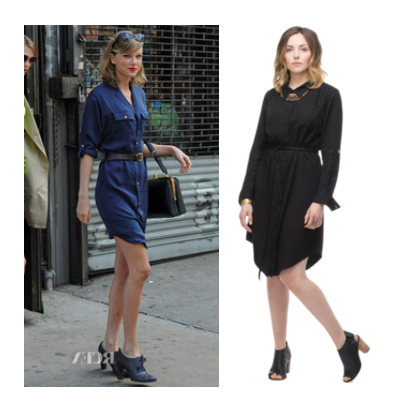 Aquire the Attire: Taylor Swift
Street style maven Taylor Swift is at it again! Spotted out and about in a beautiful navy shirt dress she looks effortlessly polished! To acquire her attire first start with a statement shirt dress. This is a versatile pieces that can take you from day to night with just a few accessory changes. We love that Taylor paired this with classic Lace Up Oxford pumps but you could easily opt for loafers or a wedge, the choice is yours. Grab your medium to large sized black leather flap over purse. This will allow you to easily stash those extra accessory pieces for a swift (see what I did there?) transition from work to dinner with your girls. Now just grab your shades and add that signature red lip and your set!
Dress it up or dress it down? What would you choose? Let us know in the comments below.